---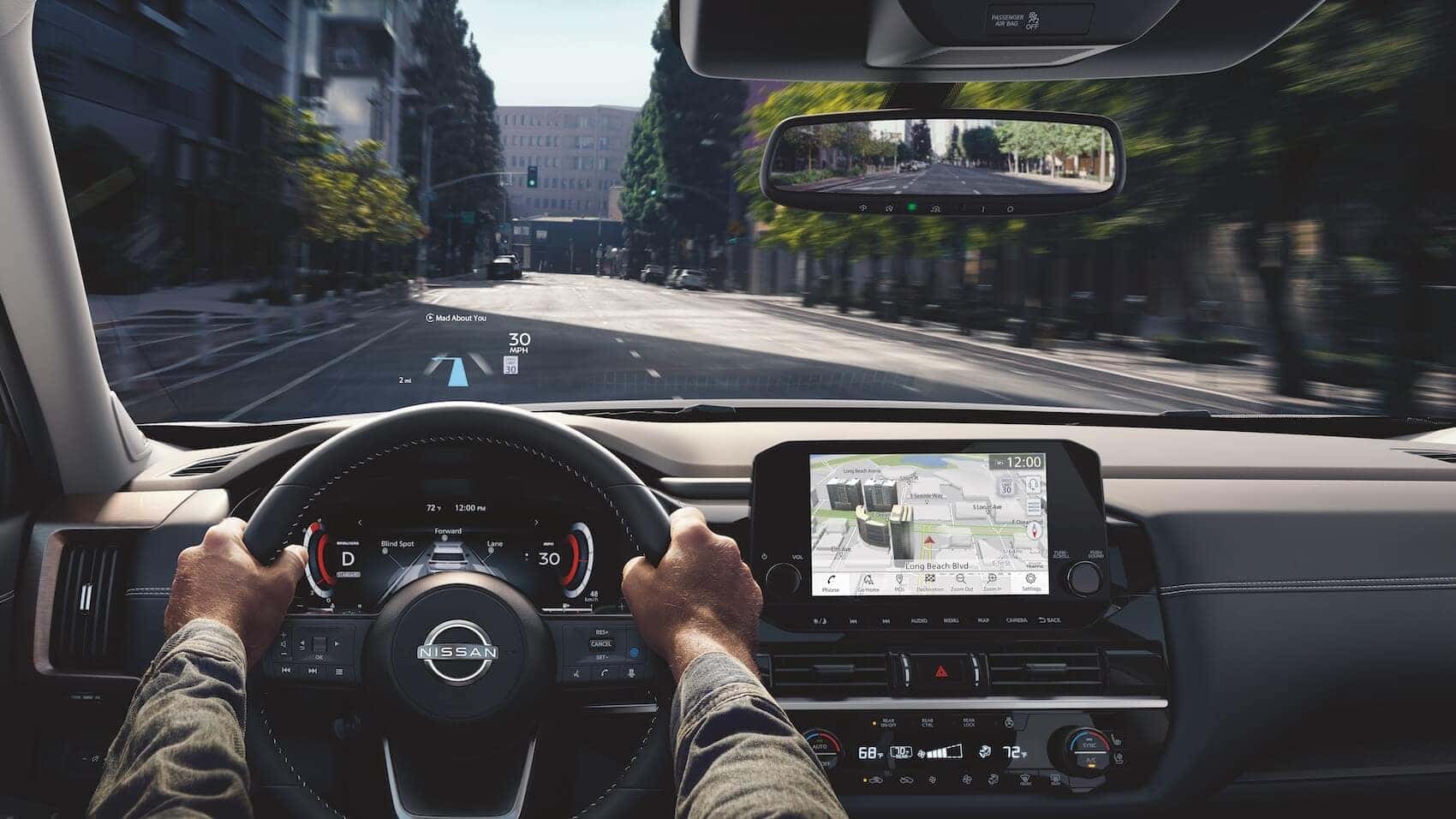 Standard Nissan Safety Shield® 360 in the Nissan Pathfinder
The 2022 Nissan Pathfinder seeks to set you up for success and safety every time you take the wheel. It comes standard with six safety and driver-assist features, including Automatic Emergency Braking with Pedestrian Detection, as well as:
Rear Automatic Braking
Blind Spot Warning
Rear Cross Traffic Alert
High Beam Assist
The Automatic Emergency Braking with Pedestrian Detection feature constantly monitors both your speed and the distance between you and the driver ahead of you, so it can alert you if you need to slow down.
In addition, it automatically applies the brakes, if necessary, to avoid or mitigate a collision. If it detects a pedestrian crossing the street or a cyclist turning, the system can bring the vehicle to a complete halt.
Rear Automatic Braking
The standard Rear Automatic Braking feature sends you a warning if it detects any large stationary objects behind the Nissan Pathfinder when backing up.
Blind Spot Warning
Like having a second pair of eyes, the Blind Spot Warning takes out the guesswork of changing lanes on the road. If it detects a fellow driver in your blind spot, you'll receive a warning.
Rear Cross Traffic Alert
Whether you're pulling out of your driveway or exiting a parking spot, the Rear Cross Traffic Alert feature lets you know if it detects a driver approaching from either side.
Lane Departure Warning
If this system detects you moving out of your lane, it provides a buzz through the steering wheel to alert you to get back between the lines.
High Beam Assist
This feature maximizes visibility all around by courteously dimming the headlights when it detects another driver approaching. Once they pass, the lights return to full brightness.