Go See Joe to Help Our Kids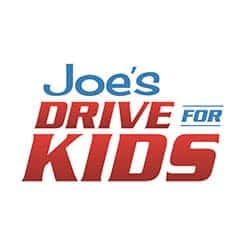 They say it's not about what you have, it's about what you give. That's why, during Joe's Drive for Kids at Sheridan Nissan, we'll
donate $25 for every vehicle sold in July and August
to the 11th Annual Help Our Kids Radiothon which benefits Nemours/Alfred I. duPont Hospital for Children.
Every year, the Help Our Kids Radiothon raises money to support the Child Life, Creative Arts Therapy and School programs, Pastoral Care, and Palliative Care. In 2020, the event raised $227,000 bringing the ten-year total to over 3.1 million dollars.
Despite the challenges we faced in 2020, between our Nissan and Ford stores, we were humbled to donate $10,000. We couldn't have done that without the support of our valued customers.
Let's do it again this year! Joe knows we can…

---
Additional Information:
Help Our Kids Radiothon
Beneficiary: Nemours/Alfred I. duPont Hospital for Children
Date: September 16 & 17
Location: Anthony N. Fusco, Sr. Atrium
Mix 99.5 WJBR will be broadcasting the event LIVE