Brake Repair near New Castle DE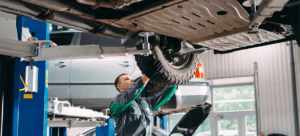 New Castle, Delaware, has a lot to offer. Whether you're visiting or have lived here for years, you'll need a reliable set of wheels to get you to the attractions you want to see. However, when your brakes aren't working quite right, it could put a damper on your plans.
That's why, at Sheridan Nissan, our service center technicians specialize in brake repair near New Castle, Delaware. When it's time to give your vehicle the extra TLC it needs, our team is here for you.
Nissan Brake Repair near New Castle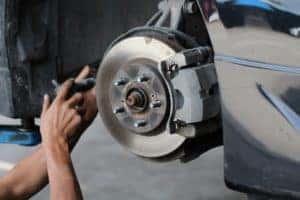 In our state-of-the-art service center, our technicians have one goal: for you to drive away in a car that's safe and running as it should.
Our technicians are certified and factory trained, so you can rest easy, knowing your car is in the best of hands. There's no job too big or too small for this team of rock stars.
Whether it's time for your model's routine brake maintenance or the system requires a repair, our team can handle it. Plus, with industry-leading equipment and the latest technologies in auto repair, we'll help you get back on the road quickly and safely.
Why Get Brake Repair near New Castle?
If your vehicle's braking system isn't working properly, it will likely let you know. While you hit the streets, watch for these warning signs. If you notice any indicators, don't put the issue on the back burner. Schedule an appointment with our team to ensure the issue doesn't worsen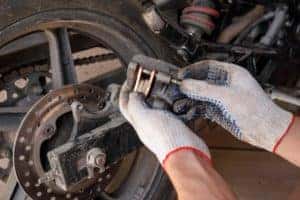 or cause more hefty problems down the road.
Check Brake Light: Is the check brake light illuminated on your dashboard? This is a telltale sign something isn't working in your vehicle's braking system. Be sure to have your vehicle's brakes checked out right away to catch the issue before it gets worse.
Odd Noises: Hearing grinding, squeaking, and squealing noises when your vehicle tries to stop is another sign you should schedule brake repair. This can be a warning of low brake pads or a worn rotor, both crucial components in stopping your model.
Vibrating Steering Wheel: If you notice your steering wheel is vibrating when your vehicle brakes, the rotors in the braking system might be uneven. When this happens, you may also experience your car pulling to one side.
Spongy Brake Pedal: If there's air caught in the brake line or a leak has formed, you may feel like your brake pedal is a bit squishy. If you need to press harder to make your vehicle stop, it's time to have your brakes inspected.
Burning Smell: When the braking system overheats, it may smell like something is burning. If this happens, pull your car over to the side of the road when it's safe to do so and contact our service center.
Is There a Nissan Brake Repair Center near New Castle DE?
Is it time for your vehicle's brake maintenance appointment? Do you think something may be wrong with your vehicle's brake system? If so, then it's time to get the dedicated service you deserve.
Contact Sheridan Nissan today to make your appointment and let our team of technicians help you drive a safer model on the streets.