Sheridan Showdown: 2018 Nissan Murano vs. Lexus RX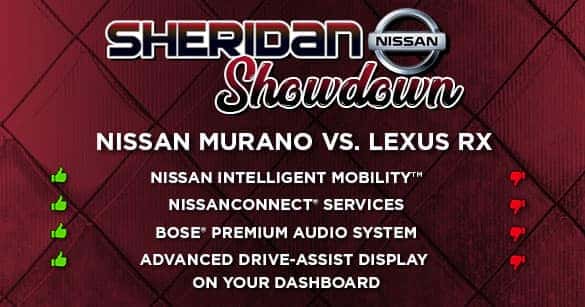 Nissan Murano vs. Lexus RX
Thank you for stopping by Sheridan Nissan in your search for your next car. We proudly serve New Castle, DE with the best selection and prices on Nissan's. If you're ready to test drive a new vehicle, visit us today to experience the look and feel of your desired car.
Stay connected with your friends and family as you travel in the comfortable lounge interior of the 2018 Nissan Murano. Drive confidently with various intelligent safety technologies that sense what you may not and assist you as needed. Visit Sheridan Nissan today to test drive and experience the affordable luxury that is the Murano.
The interior is customizable to your liking with:
Intelligent Climate Control
Heated Front and Rear Seats
Adjustable Mood Lighting
Jasper Pearlescent or Brushed Silver Accents
The 2018 Lexus RX has a lot in common here, but the Murano wins when it comes to performance, style and technological capabilities. Sheridan Nissan offers the best lease deals, so the Murano is available at a more affordable price, as well as less expensive service and maintenance costs.
This feature assists you while driving for any unexpected occurrences that are out of your eyesight:
Intelligent Forward Collision Warning2
Blind Spot Warning3, 4
Rear Cross Traffic Alert3, 5
Automatic Emergency Braking1
Nissan Navigation System
The Nissan Navigation System features an 8" color touch-screen that shows you nearby restaurants, gas stations and ATMs along the route to your destination with voice-guided visible instructions on the Advanced Drive-Assist® Display.
Stay connected with your friends and family as needed in your travels, and use all of the features on your mobile device with voice recognition. Apple CarPlay™ brings access to apps, while Siri® recognizes voice commands, serving up personalized music selections, directions and more.6 Android Auto™ provides useful information, like suggested routes, upcoming appointments and weather forecasts. It's all displayed on-screen as user-friendly, scrollable cards to keep you in the know.6
No matter what you decide to listen to as you drive, the sound quality is second to none with a Bose® Premium Audio System featuring 11 speakers, including dual subwoofers.
Intelligent All-Wheel Drive
The Murano's available Intelligent AWD tackles a variety of terrains, while helping to keep you confident on the road, with features such as hill start assist. The 260-hp, 3.5-liter V6 engine provides impressive power without sacrificing efficiency.
Power
The 260-horsepower, 3.5-liter V6 engine provides the right amount of power. The Murano's aerodynamics achieve a drag coefficient of 0.31 – compared to 0.34 in the Lexus RX – which helps contribute to an impressive 28 MPG on the highway.
Visit Sheridan Nissan to learn more about the 2018 Murano. Schedule a test drive.
Complete form below & the staff at Sheridan Nissan will answer all your 2018 Nissan Murano questions!
1 AEB cannot prevent accidents due to carelessness or dangerous driving techniques. It may not provide warning or braking in certain conditions. Speed and other limitations apply. See Owner's Manual for details. 2 IFCW is intended to warn you before a collision occurs; it cannot prevent a collision. Speed and other limitations apply. See Owner's Manual for details. 3 Available feature. 4 BSW is not a substitute
for proper lane change procedures. The system will not prevent contact with other vehicles or accidents. It may not detect every vehicle or object around you. 5 Not a substitute for proper backing procedures.
May not detect all moving vehicles. Speed and other limitations apply. See Owner's Manual for details. 6 Available services/features may be shown. Compatible connected device may be required. Only use
services/features and device when safe and legal to do so. Subject to GPS and wireless network availability and connection, and system/technology limitations. Text rates/data usage/subscription may
apply. Some services/features provided by companies not within Nissan or its partners' or agents' control and may be discontinued at any time. For more information, see dealer, Owner's Manual, or
NissanUSA.com/connect/important-information.