Sheridan Showdown: 2018 Nissan Maxima vs. Toyota Camry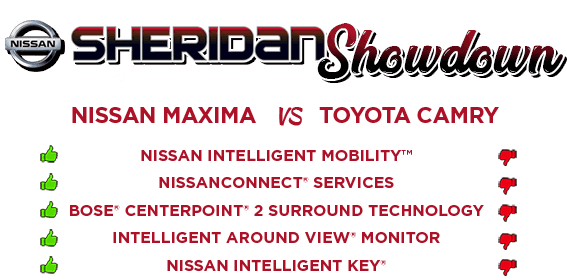 2018 Nissan Maxima vs. Toyota Camry
Thank you for choosing Sheridan Nissan! We know as you consider your options for a new car, finance options and the level of customer service a dealership offers are also just as important to you as the car you choose. At Sheridan Nissan, we can guarantee a great experience across the board.
As you look into mid-sized sedans, consider the 2018 Nissan Maxima. Compared to the 2018 Toyota Camry, the Maxima offers a more luxurious look and feel, as well as countless features that provide a better ride.
Power
The 3.5L VQ V6 engine delivers 300 hp and 261 lbs.-ft. of torque, while the 2.5L 4-cylinder engine in the Camry delivers 203 hp and 184 lbs.-ft. of torque. According to Car and Driver, the Maxima takes 5.9 seconds to go 0-60 mph, while the Camry takes 7.9 seconds. It also has a shorter stopping distance to go 60-0 mph: 168 feet compared to 175 feet.
The Maxima is also equipped with an Xtronic® CVT. This type of transmission operates different than your traditional 6-speed automatic transmission in the Camry. It has fewer moving parts and will experience less wear and tear over time.
Technology and Convenience
The Nissan Intelligent Key® allows you to remotely start the Maxima and cool off or heat up the car before you get in1. Once inside, NissanConnect® (not available in the Camry), which is compatible with both Apple CarPlay™,2 and Android Auto™,2, lets you use all the apps on your smart phone on the go. Play all of your favorite music at the perfect volume with the 11 available Bose® Centerpoint® 2 Surround Technology speakers. Additionally, you can set up alerts and get remote access through your phone:
Emergency Preparedness: If a collision occurs, it will notify and send help.
Remote Access: Like the Intelligent Key, you can also use your smartphone to remotely lock/unlock or start the car.
Customizable Alerts: Speed Alert; Boundary Alert; Valet Alert; Curfew Alert.
Convenience Services: Gives you turn by turn directions to never lose your way again and find nearby stores and restaurants.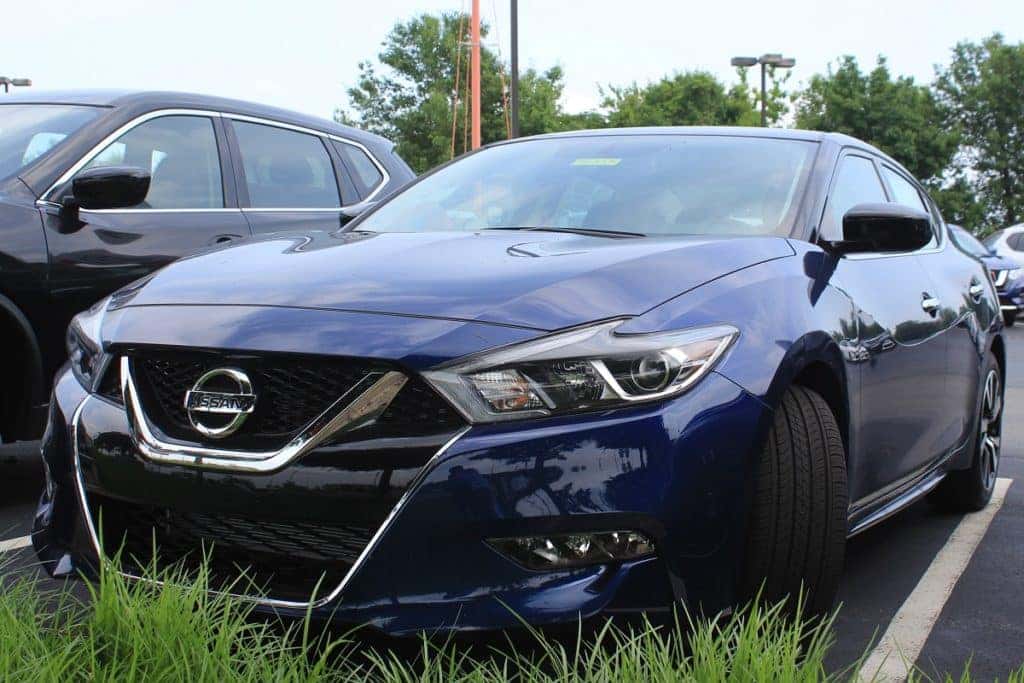 If you do experience a flat or damaged tire while driving, the Maxima is equipped with a full-sized spare, so you don't have to stop and buy a new one and interrupt your routine. The Camry comes standard with a smaller "donut".
Furthermore, Nissan Intelligent Mobility™ provides you with the following assist features:
Intelligent Forward Collision Warning3(not available in the 2018 Toyota Camry): Alerts you to slow down if the cars in front of you begin to brake.
Automatic Emergency Braking4: Alerts you to slow down and applies the brakes if necessary to avoid collision or to lessen the severity of impact in the event of a collision.
Blind Spot Warning5: Alerts you when another driver enters your blind spot.
Intelligent Cruise Control: Maintains an adjustable speed and a safe traveling distance between you and the car ahead of you while maintaining the flow of traffic.
Intelligent Around View® Monitor6 (not available in the 2018 Toyota Camry): Gives you a 360° view of your vehicle, alerting you to anything you may not see.
Capability
Both the Maxima and Camry feature a standard rearview camera. While reversing, the Maxima's side mirrors adjust to help you better see your sides and behind you and adjust back to normal once you have backed up or parallel parked. The Camry's mirrors don't allow for this.
To keep out outside noise, such as wind and the engine, the Maxima has Active Noise Cancellation. You won't find this in the Camry.
Now that you've learned how the Maxima compares to the Camry, schedule a test drive at Sheridan Nissan! It's time to go see Joe at Sheridan Nissan in New Castle, DE.
Complete form below & the staff at Sheridan Nissan will answer all your questions!
1. State laws may apply. Review before using. 2. Feature availability is dependent on vehicle model, trim level, packaging and options. Compatible connected device may be required and feature availability may be dependent on device's capability. Refer to connected device's owner's manual for details. Late availability for some features. 3. IFCW is intended to warn you before a collision occurs; it cannot prevent a collision. Speed and other limitations apply. See Owner's Manual for details. 4. AEB cannot prevent accidents due to carelessness or dangerous driving techniques. It may not provide warning or braking in certain conditions. Speed and other limitations apply. See Owner's Manual for details. 5. Blind Spot Warning is not a substitute for proper lane change procedures. The system will not prevent contact with other vehicles or accidents. It may not detect every vehicle or object around you. 6. Intelligent Around View® Monitor cannot completely eliminate blind spots and may not detect every object. Operates at vehicle speeds below 5 mph. Always check surroundings and turn to look behind you before moving vehicle.